TL;DR
CRKT's Swindle features a hollow modified Wharncliffe, 12C27 Sandvik steel blade, IKBS ball-bearing flipper, frame lock, and a smooth handle so satisfactory that you end play playing with the knife more.

The Swindle is Ken Onion's elegant, modern take on the old-school style of a swayback. The added height at the pocket clip is really reminiscent of a swayback jack. I absolutely love the way this thing looks and feels!
The hollow ground, modified Wharncliffe blade is made of 12C27 Sandvik steel and moves with the greatest of ease, thanks to the IKBS ball-bearing flipper mechanism, which in this knife makes for a very frustrating disassembly, by the way. However, that is made up for in the way that it opens. It is so satisfactory you end play playing with the knife more and more.
The handle is made out of stone-washed stainless steel that feels really great in your pocket and has become one of my most favorite styles now. The frame lock is integrated into the body of the handle in a unique way that doesn't break up the great lines of the design.
The 12C27 Sandvik steel blade takes a sharp edge very easily, however, as with any value steel you will need to sharper more than your high-end or premium steels. The jimping isn't aggressive and feels like it belongs there. The blade has a little bit of a belly, allowing you to perform several different cuts with it.
Overall, this is a great design and I feel like it will be hard to find something that ticks all the boxes quite like this one.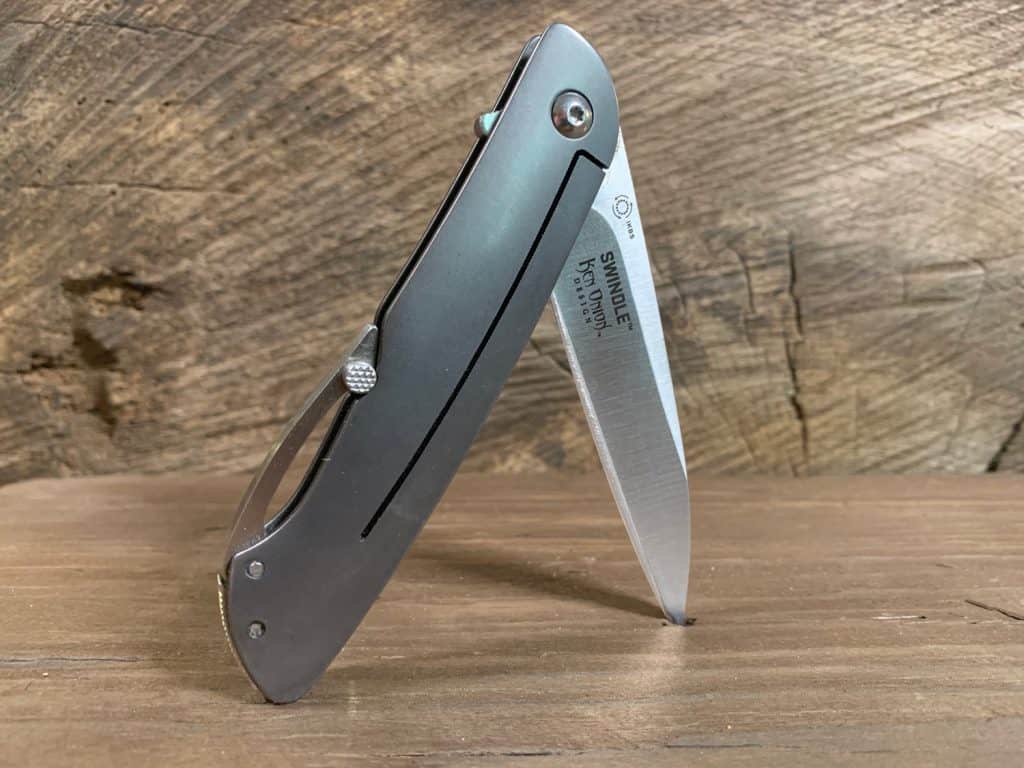 Specifications
Blade Length: 3.20″ (81.28 mm)
Blade Edge: Plain
Blade Steel: 12C27 Sandvik
Blade Finish: Satin
Blade Thickness: 0.12″ (3.05 mm)
Overall Length: 7.50″ (190.50 mm)
Closed Length: 4.25″ (107.95 mm)
Weight: 3.30 oz. (93.55g)
Handle: Stainless Steel
Style: Folding Knife w/Frame Lock
The Cons
My only two concerns are actually the same complaints I had about the Jettison. The frame lock looks great and feels great, but it is harder than it should be. The lack of a thumb hole or indentation on the handle makes it a little tricky to hit the lock without fail; a very small thing once you get used to the feel of the knife.
The second is an even smaller complaint. It is very, very smooth so it sometimes feels insecure in your hand, especially around water. But, this is a tradeoff for the super unique look.