TL;DR
The Opinel No. 8 is a stupidly simple, traditional knife that is a well-made, functional, and stylish piece of equipment for about what you'd expect to pay for a mass-produced, low-quality "gas station counter" pocket knife.
In 1890, Joseph Opinel turned 18 and worked in the family workshop. With a passion for new machines and innovative technologies, he built his own camera and soon became the photographer for weddings and special events in his area. Led by his passion for machinery and the manufacturing process, he decided to invent an object which he could manufacture using modern technology. Against his father's wishes, he spent most of his free time refining the shape and manufacturing of a small pocket knife: the Opinel No. 8 was born!
The Opinel No. 8 is a very simple, traditional, trusty companion. At first glance, it is more apparent what it doesn't have versus what it does. But don't let that fool you. It does not flick open. It does not clip to your pocket. Its handle is not some lightweight alloy, but wood. A wood that swells in humidity and can make the blade almost unusably stiff until you oil it, or dry it in the oven. But, it is reliable. It is durable. It is handcrafted. It does take an edge really well. It is very good at what is goes – cut things. And, it is criminally cheap.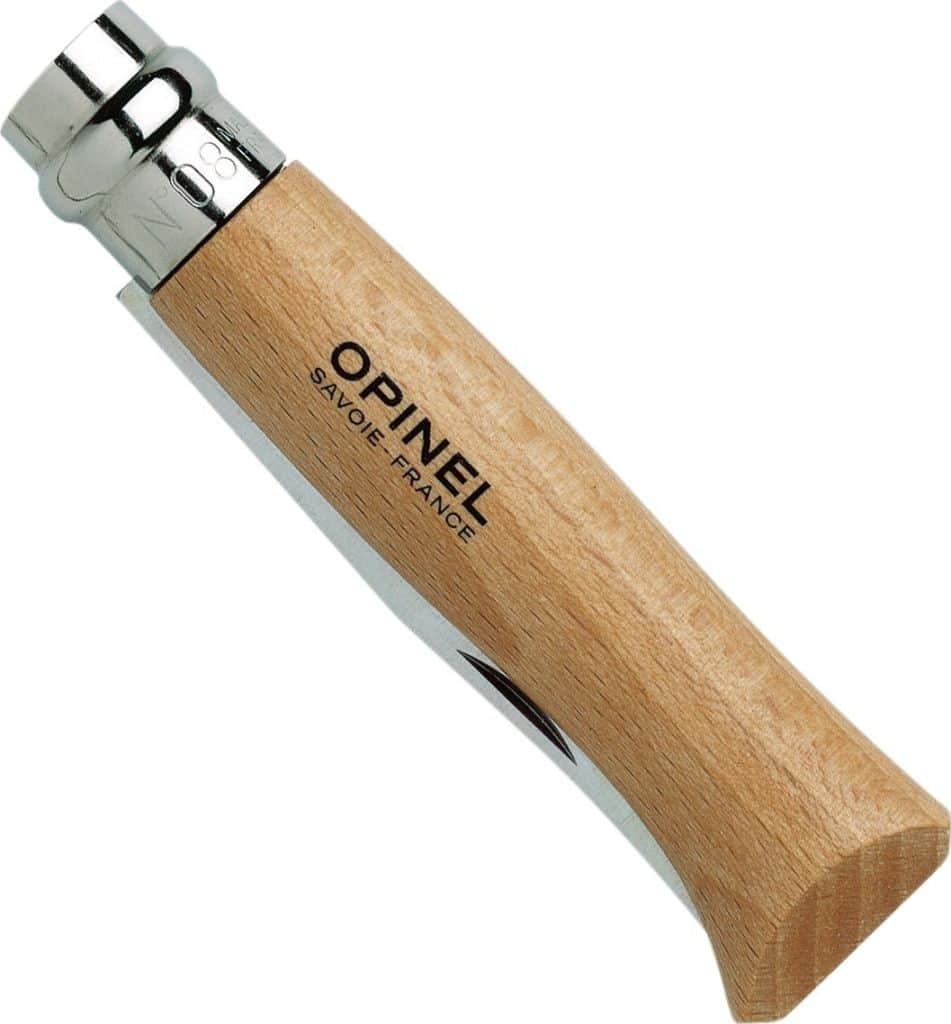 The No. 8 is comprised of just five pieces: the blade, the wooden handle, a steel collar around the pivot, a pin to keep that collar in place, and the rotating Virobloc twist lock mechanism, which fits over the steel collar and was invented by Marcel Opinel in 1955.
Opinel has refined & perfected the blades on their knives for over 100 years. The result is a thin, convex-ground, clip point blade shape that is an extremely versatile and all-around good performer. The stainless steel, straight-edge blade we tested (also available as serrated and carbon steel) holds an edge but responds very well to attentive resharpening as it is used.
The handle material is wood. You can select from four different woods: beech, walnut, oak, and olive. We opt'd for the oak for our testing and it has a decent amount of traction. You will notice that the shape of the handle fits perfectly into just about any hand size. A gentle curve mimics the shape of your knuckles and is pretty grip-neutral.
The spine of the blade is flat, allowing for a place to put your thumb for extra control, and the flat butt-end of the knife creates a good spot for your thumb in a reverse grip.
The overall blade grind is so narrow that the final edge bevel is virtually indistinguishable.
The Virobloc is essentially a rotating steel collar with a slot in it for the blade. With the collar slot lined up with the blade, you can open and close the blade. With the collar slot turned aside, the blade cannot be opened or closed. This is elegant in its simplicity. The disadvantage of the opening method and locking collar is that all operations essentially require two hands.
The Opinel is super lightweight amongst others with this long of a blade weighing twice as much as this knife. The only knives coming close in weight will have much shorter blades. Making it perfect for an every day carry pocket knife.
What's in the box
Specifications
Dimensions: 7.59″ x 1″ x 1″ (Open)
Blade Material: Sandvik Stainless Steel 12C27 Mod.
Blade Length: 3.28 inches
Handle Material: Beech, Olive, Walnut or Oak Wood
Limited Lifetime Warranty
Lightweight
Highly anti-corrosive blade
Made in France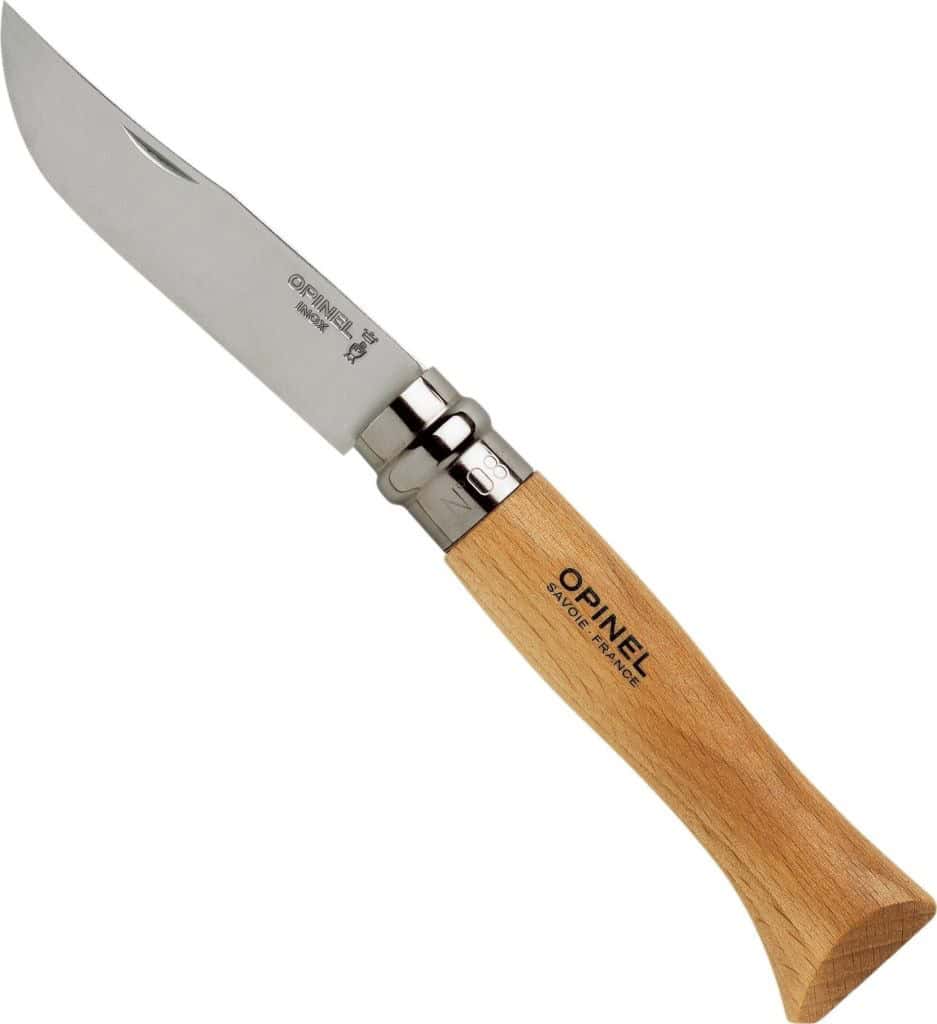 The Cons
Honestly, the only thing that you can fault the knife for is the maintenance needed if exposed to wet materials or water. You have to make sure you keep the knife oiled and clean, but really, shouldn't you always do this anyway?