TL;DR
The Mavic Mini is an excellent choice for your starter drone and for most people it will suffice for their only drone. The compact size (folds down to the size of an iPhone X), 2.7K video, 4K photos, and long flight time, paired with the support, community, and quality that DJI is known for, makes this an excellent choice for both hobby and commercial pilots.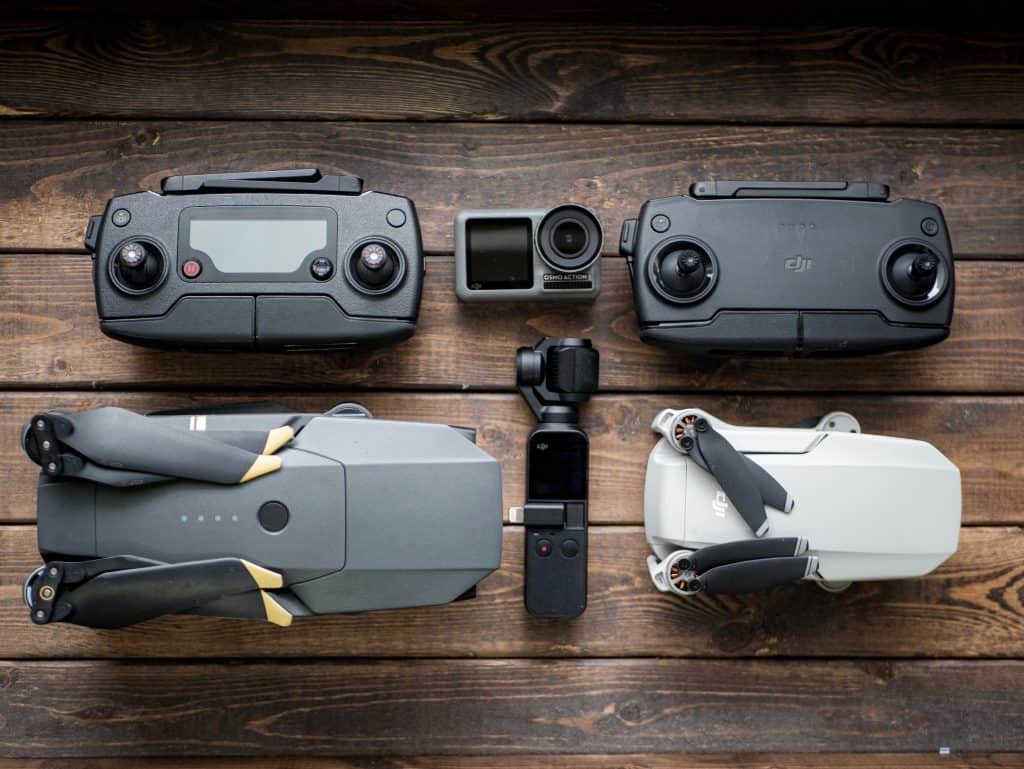 A Rebel with a Cause
In October 2019 DJI released its newest drone, the Mavic Mini to much anticipation. The hype was high and almost every single detail that leaked was true – a low-cost, entry-level drone that can fly twice as long as the Spark, shoots 2.7K 30fps video & 4k photos, a three-axis gimbal, some nifty intelligent flight modes, and skirts just below the FAA (and more importantly, other country's regulatory organizations) requirement that you register your drone by coming in at a grand total of 249 grams. This last feature was important enough that they even printed the weight prominently on the side of the drone.
Please note that even though you aren't required to register the drone with the FAA within the US for hobby use (as of the publish date of this review), you do have to obey all rules for UAV's that they FAA has laid out.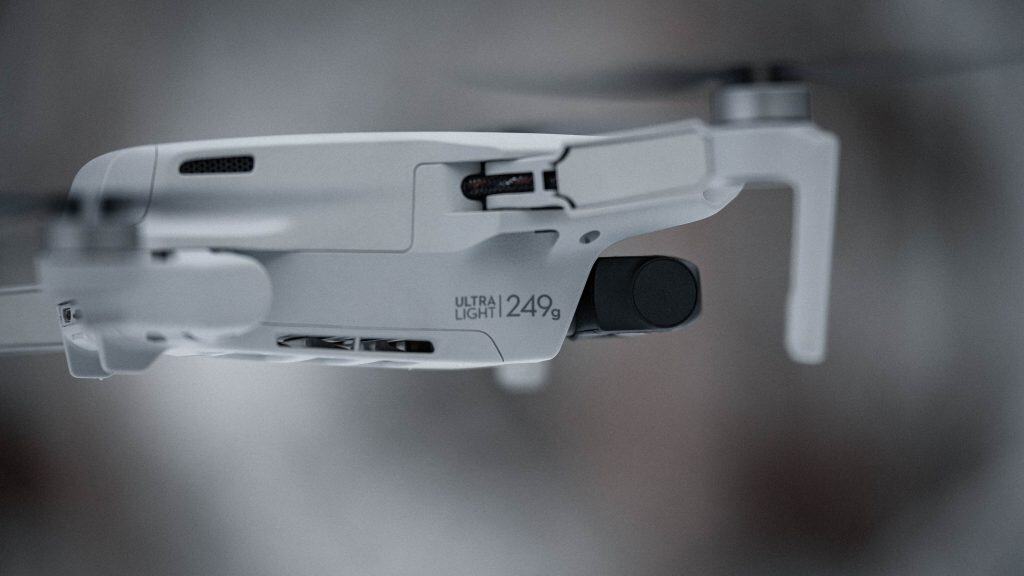 What's in the Box?
Base Model:
Mavic Mini Aircraft
Remote Controller x 1
Intelligent Flight Battery x 1
Pair of Spare Propellers x 1
Micro USB Cable x 1
Gimbal Protector x 1
RC Cable (Micro USB connector) x 1
RC Cable (USB-C connector) x 1
RC Cable (Lightning connector) x 1
Pair of Spare Control Sticks x 1
Spare Screw x 6
Screwdriver x 1
Fly More Combo:
Mavic Mini Aircraft
Remote Controller x 1
Intelligent Flight Battery x 3
Pair of Spare Propellers x 3
Micro USB Cable x 2
Gimbal Protector x 1
RC Cable (Micro USB connector) x 1
RC Cable (USB-C connector) x 1
RC Cable (Lightning connector) x 1
Pair of Spare Control Sticks x 1
Spare Screw x 18
Screwdriver x 1
360° Propeller Guard x 1
Two-Way Charging Hub x 1
DJI 18W USB Charger x 1
Carrying Bag x 1
The Specs
Weight: 249 grams
Gimbal: 3-axis (tilt, roll, pan)
Video: 2.7K 30fps @ 40 Mbps
Still Shots: 4000px x 3000px
Max Speed: 30mph
Max Flight Time: 30 minutes
For full specifications see DJI's product page.
Up & Running in Minutes
Right out of the box, it was very easy to setup the Mini. Within two minutes I was able to launch the drone from my desk and fly around the office a bit. The visual flow sensors on the bottom of the drone (the only sensors included to keep the weight & cost down) kept it hovering perfectly as soon as it launched and avoided collision while flying over furniture. I purchased the Fly More Combo, which came with the extra batteries, fast charging hub, the 360º propeller guard, and several additional items.
There are three different flight modes: Position, CineSmooth, and Sport. In addition, there are four intelligent flight modes, called Quick Shots, including Circle, Helix, Dronie, and Rocket.
One notable missing feature is Active Tracking. Theoretically, the Mini is capable of active tracking (it uses a similar feature for all of the Quick Shots), however many people think they will not introduce this feature in future firmware updates to keep the feature set different enough from the other models to prevent the Mini from cannibalizing sales of DJI's more expensive models.
Side note: Another popular theory is that the Mini is actually capable of 4K recording, however DJI sites overheating as the reason for the disabling of this feature.
First Flight with the Mavic Mini
Heading out of the office and taking my first flight outside, I was very surprised by the quality of the video and photos I was able to capture.
CineSmooth mode allows even the most novice pilot to capture cinematic, slow-panning shots of any atmosphere. I have found myself taking the drone everywhere I go just in case I spot something that might make for a cool shot.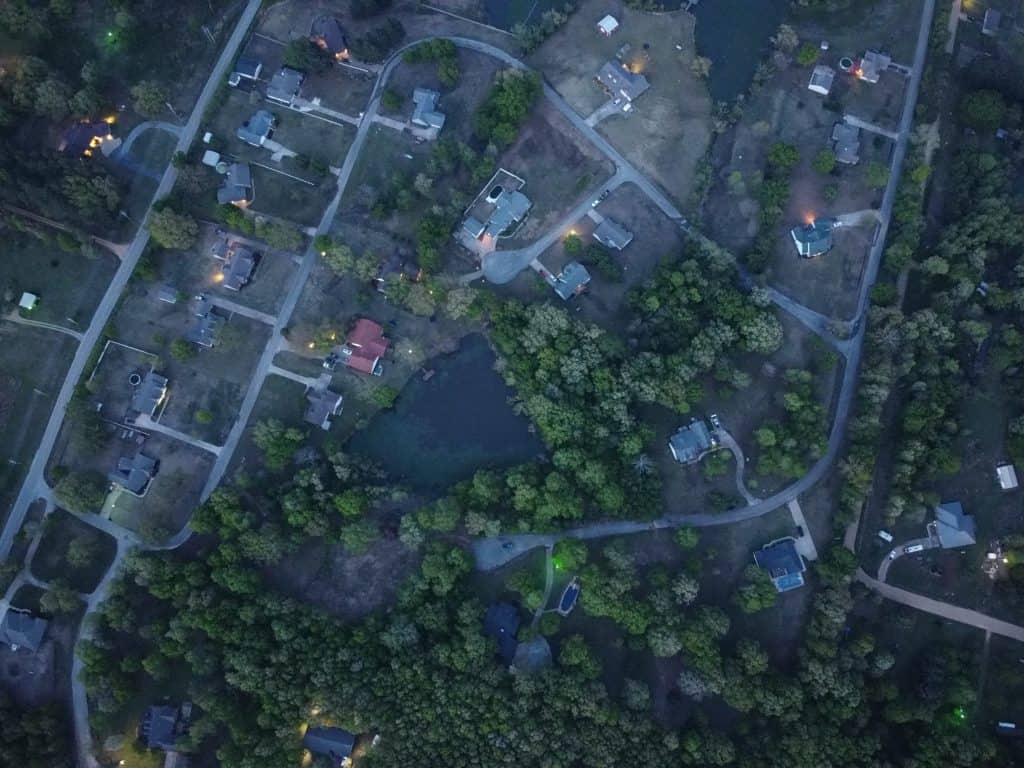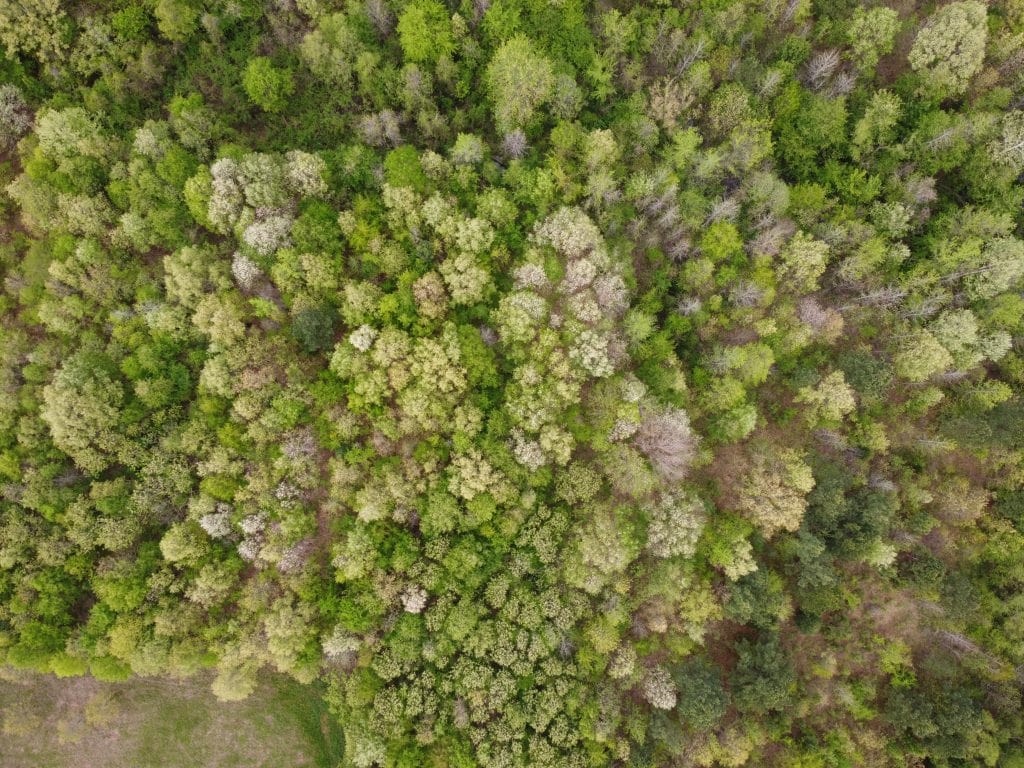 In addition to the quality of media, this thing produces, it's just really fun to fly. Switching out of CineSmooth mode into Sport mode, the drone flies almost twice as fast and is extremely responsive. To get the longest flight time, you will want to fly in Position mode. In Position mode, I am able to get almost 30 minutes of flight time every time I fly. Since I purchased the Fly More Combo with the additional two batteries and the charging hub, I am able to fly almost non-stop for hours. With the fast charging built into the charging hub in combination with a 110v outlet in my car, I am able to charge the first battery in the time it takes me to drain the other two – allowing me to continuously move from location to location with full batteries.
In a recent firmware update, the largest complaint the internet had about this drone was addressed. You can now manually control your white balance, something that was locked until this update on April 23, 2020. Here's to hoping a future update adds some type of active tracking, even if limited use.
Let's not leave out the obvious topic that nobody wants to talk about – crashing. The combination of the very thin plastic DJI has used to keep the weight down and the 249g weight, this thing feels like it would get damaged easily. However, that's not the case. In the three weeks I have been flying the Mini almost daily and pushing it to its limits, I have collided with walls, furniture, and trees an embarrassing amount of times with no scars or broken parts to show for it. That being said, if you let the battery run out or lose signal and the drone drops from the sky it will probably not survive in one piece. As long as you are careful I can't see the average person ripping the arms off this ting. The propellers, which as made out of a super durable material, are easily replaced with the included precision screwdriver. Again, if you purchase the Fly More Combo, you get several extra pairs as a backup.
The Mini does have some excellent safety features included to keep you from losing your drone. If your battery enters into a point-of-no-return space, it will prompt you to land or return to home (RTH). If the drone loses signal, you can choose from several different actions – hover in place, return to home, or land.
If you happen to have to land in an undesirable location, you can activate the Find My Drone feature and the drone will beep and flash its lights until you find it using its last reported position on your map. Obviously, you will want to wait to activate this feature until you are fairly close to the suspected location in order to not expire the battery prematurely.
The Cons
With any entry-level product, there are always features that you would like to see improved. With the Mini, those are pretty limited and have to do with all the things they had to do to keep the weight down – obstacle avoidance sensors, no smart controller compatibility, and signal breakups.
In order to keep the weight down, DJI left out the sensors you would normally see on their drones. This is most likely the reason for active tracking being disabled. Without obstacle avoidance, they would almost certainly see new pilots ramming these things into trees and buildings as they have it follow them down paths and roads.
The limitation of a WiFi signal causes more than usual amounts of signal breakups and this is painfully obvious in urban areas. As you move out of the city, these problems almost disappear and you can easily fly it at altitudes of over 1000ft and out a mile or more (with a license, of course). Adding a signal booster really helps with this, I link the one I purchased below.
Accessories
As a true nerd does, I purchased an array of different accessories for the Mini. This included:
We'd love to hear about your experience with this drone. Drop your comments and questions below. Safe flying!